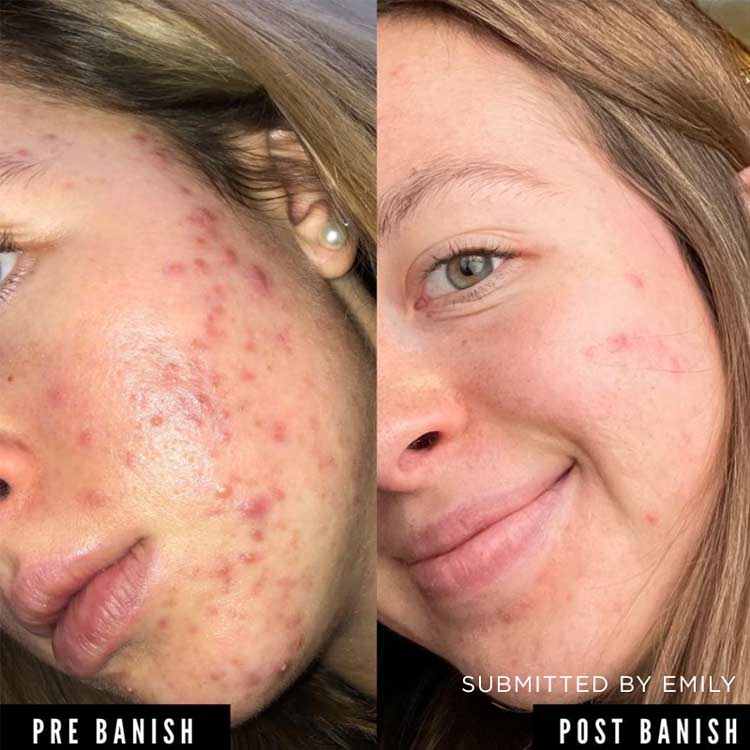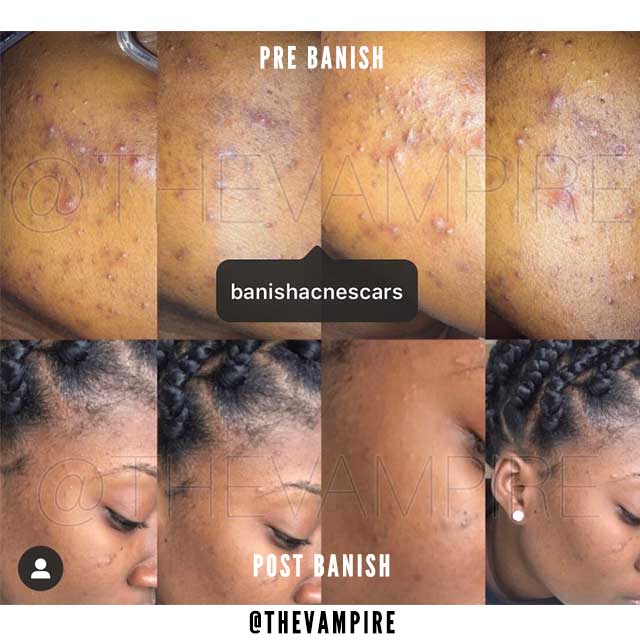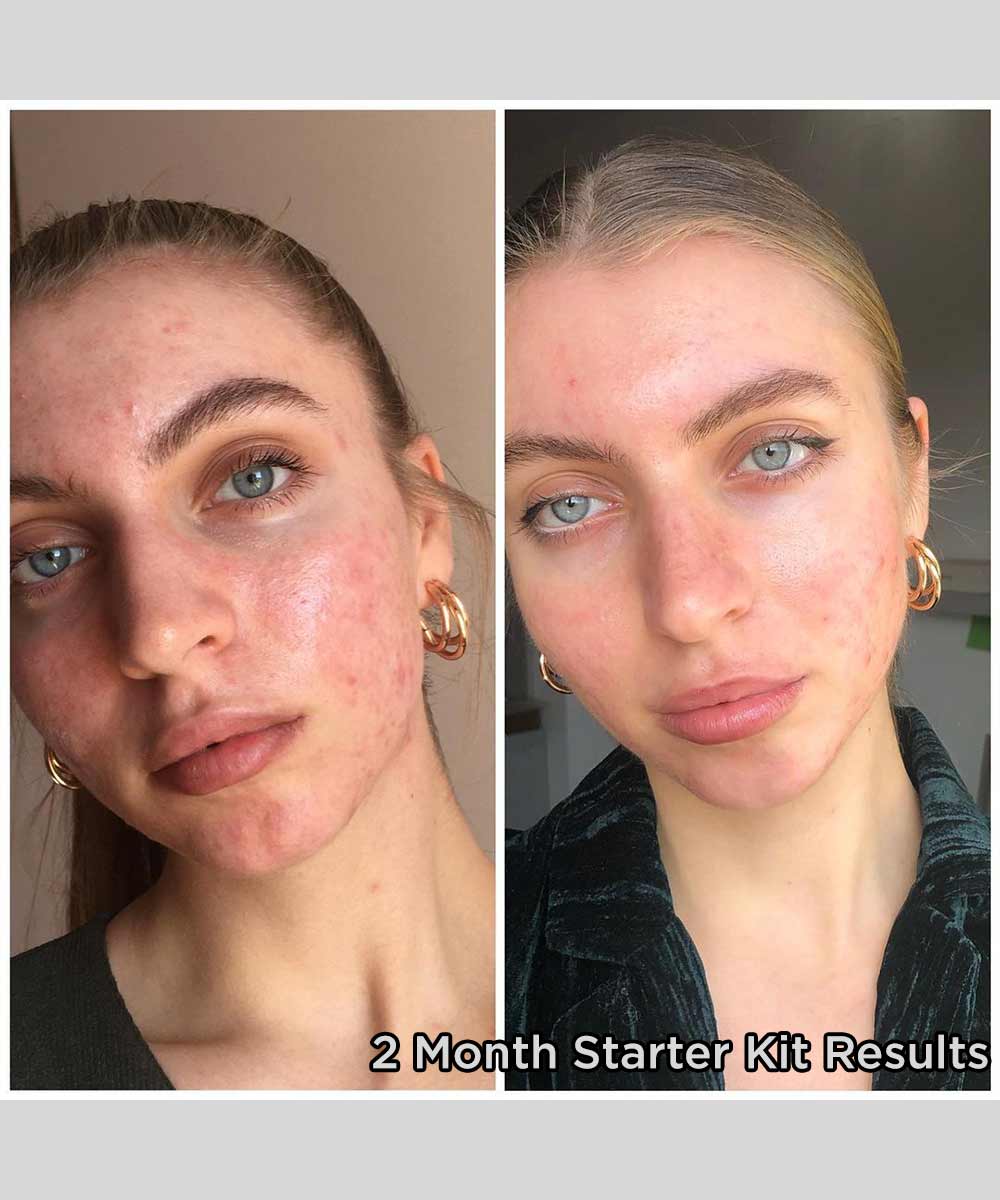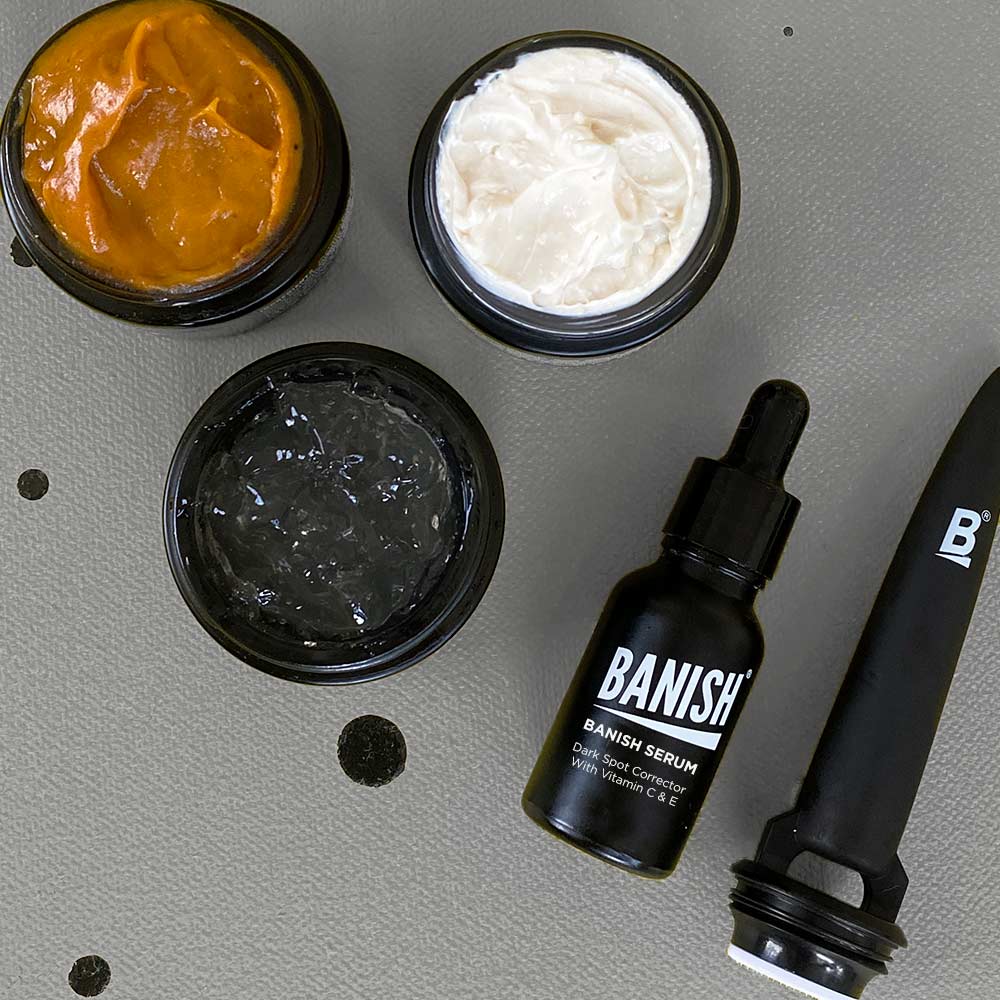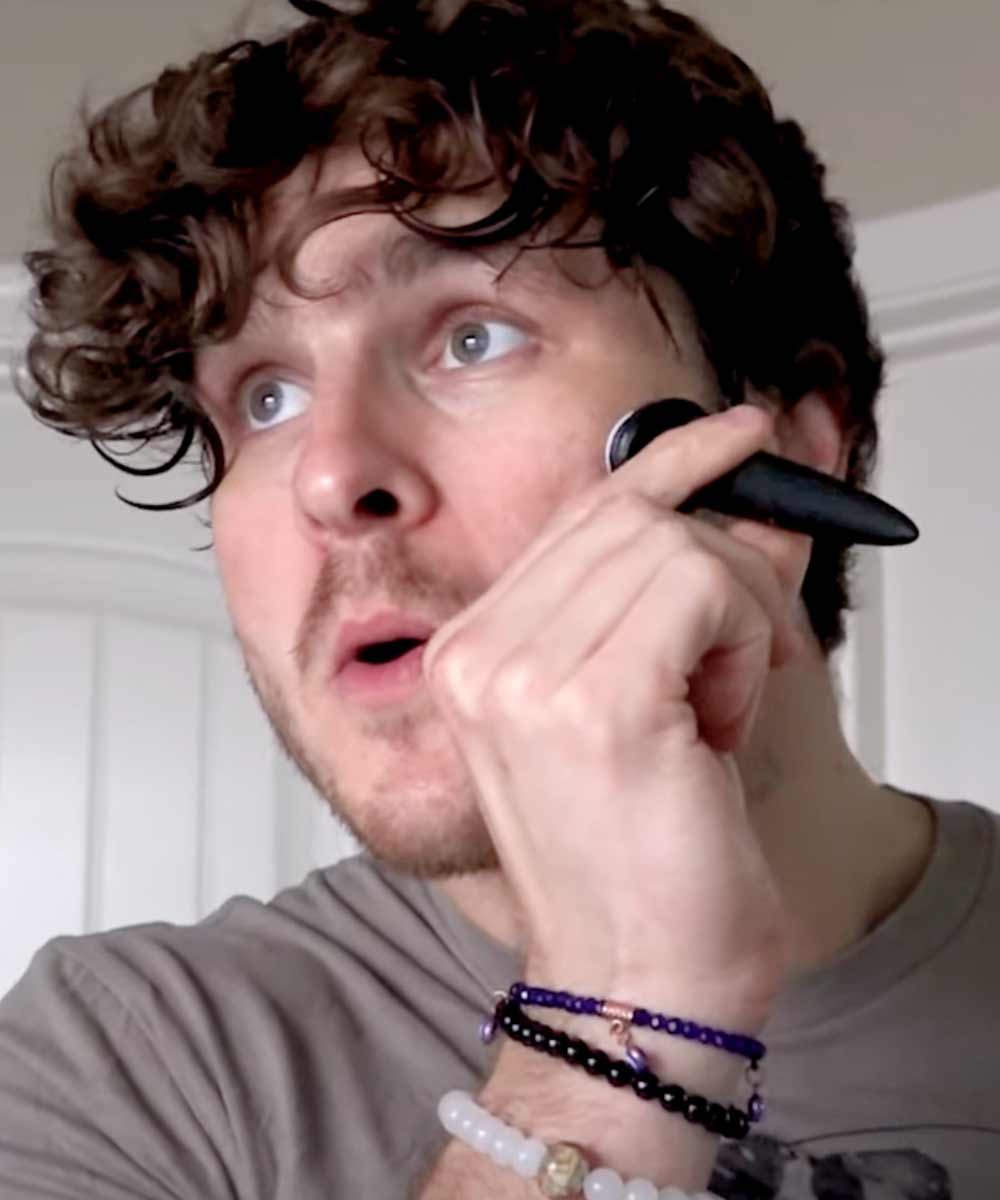 Banish Starter Kit
Combats Dark Spots, Acne Scars, & Breakouts.
---
Our best selling skincare to prevent and combat hyperpigmentation, breakouts, and acne scars.  Final Sale Item.

The starter kit is also great if you want to maintain and renew your skin's appearance!
Only Starter Kit purchases get 24/7 VIP personalized support!
The Starter Kit can last you at least 2 to 3 months of treatments when using everything consistently!  Get Spa-lIke results without the weekly spa prices! 
For All Skin Types.
Includes 
Vitamin C Creme 50ml - $49 
Banisher 2.0  - $69 
Fighter Gel  50ml  - $49
Pumpkin Enzyme Masque 50ml - $49 
Banish Vitamin C Serum ( 15 ml)   -$49 
Storage bag    Total: $265 

$195!

 

Save $70
The Banisher 2.0 is great for people who want to target specific: 
Acne scars

Fine lines

Stretch marks
Results To Expect: 
Reduce textured acne scars or other scar types
Reduce fine lines
Brighten dark marks 
Hydrate skin for a morning after glow 
Deep cleans pores and exfoliates away dead skin and excess oils to prevent acne
Fights inflammation and supports moisture barrier to reduce acne breakouts
What customers have said: "I've only been using the Banish Kit for a little under three weeks now, but I can say with certainty that it is the best investment I have made for my skin.
I fumbled a bit the first couple days with figuring out how much of each product I should be putting on my skin without making it too much, but once I got that down I've seen inflammation go down, hyperpigmented spots look so much lighter, and overall my skin texture is so much smoother.
If these are the results for only three weeks of use, I can't wait to see what my skin will look like in a couple months!" - D.C.
No Added Artificial Fragrance + No added dyes
Featured On:
Complete Set Of Products For Acne Scars and Acne Prone Skin
How Do I Use Everything Together?
Cleanse skin first for every routine.
| | | | |
| --- | --- | --- | --- |
| Day | Evening  | Weekly or every 2 weeks | 1-2x A week |
| Fighter Gel | Fighter Gel | Banisher 2.0 ( Sanitize first ) | Pumpkin Enzyme Masque ( Don't use right after Banisher ) |
| Banish Serum or Vitamin C Creme | Banish Serum or Vitamin C Creme | Banish Serum after Banisher | |
| Apply SPF (sold separately ) | | | |
Do not use the Banisher 2.0 on active breakouts, or rashes. Check with your doctor first if you are on prescription medication.
The Banisher 2.0 may be used together with the Banish Serum.   Vitamin C is essential for improving dark spots and enhancing collagen.
Use the Banisher 2.0 once every 2 weeks, up to once a week in your night routine on thoroughly clean skin.

Always disinfect your Banisher with 70-90% rubbing alcohol before and after each use.

Apply Banish Serum on after using Banisher.

Do not use the Banisher on active pimples or Rashes (I know, patience is a virtue) Use the Banish Serum daily and right after the banisher to reduce the look of dark marks, uneven texture and fine lines.

Using The Pumpkin Enzyme Masque: This mask exfoliates and may be used 1-2 days after or before using the Banisher 2.0.

The Pumpkin Enzyme Masque can be used 1-3 times a week. Use less often if sensitivity or irritation occurs.

A little bit of a tingly feeling is normal with this mask on initial application. Do not use exfoliating masks or products such as the pumpkin enzyme masque right after the Banisher.

The fighter gel may be used daily in the morning or night. Apply it after your serums but before your creams. Apply a small amount on skin, massage in and leave on.

Please wear sunscreen while using these products! Broad spectrum SPF 30 or higher is recommended. We recommend The Defender SPF 50 sold separately.

Sunscreen is our armor against the sun's UV rays, so make sure to protect your skin while it heals!

Skin may be more sensitive to the sun from using products that contain AHAs and while using the Banisher.
Banish Serum:Vegetable Glycerin, Aqua, Hamamelis virginiana (witch hazel) extract, 100% L-Ascorbic acid, ferulic acid, natural rose extract, mixed tocopherols 95% (natural Vitamin E), Simmondsia chinensis (Jojoba) seed oil, Rosa damascena (Rose) absolute, sodium benzoate, benzoic acid

Pumpkin Enzyme Masque: Pumpkin Fruit Purée (Cucurbita Pepo), Water (Aqua), Glycerin, Tetrasodium EDTA, Vitamin E (Tocopherol), Sunflower Seed Oil (Helianthus Annuus), Phenoxyethanol, Citric Acid, Meadowfoam Seed Oil (Limnanthes Alba), Xanthan Gum, Glycolic Acid, Vitamin C (Ascorbic Acid), Organic Sugar Cane Extract (Saccharum Officinarum), Organic Bilberry Fruit Extract (Vaccinium Myrtillus), Organic Sugar Maple Extract (Acer Saccharinum), Organic Orange Peel Extract (Citrus Sinensis), Organic Lemon Peel Extract (Citrus Limon), Organic Cranberry Fruit Extract (Vaccinium Macrocarpon), Organic Neem Seed Oil (Melia Azadirachta), Organic Rosemary Leaf Extract (Rosmarinus Officinalis), Organic Sunflower Seed Oil (Helianthus Annuus), Organic Cinnamon Cassia (Cinnamomum burmanni) Powder, Organic Ginger Root (Zingiber officinale) Powder, Organic Nutmeg (Myristica fragrans) Powder, Organic Allspice (Pimenta dioica) Powder, Organic Clove (Syzygium aromaticum) Powder, Organic Cardamom (Elettaria cardamomum) Powder, Organic Alcohol

Fighter Gel: Aqua (Deionized Water), Aloe Barbadensis Leaf Juice (Organic Aloe), Phenoxyethanol (Preservative), Acrylates/c10-30 Alkyl Acrylate Crosspolymer, Dimethyl Sulfone (Msm), Alcohol, Ethylhexylglycerin (Preservative), Mentha Piperita Oil (Peppermint Essential Oil), Camellia Sinensis Leaf Extract (Organic Green Tea), Menthol, Arnica Montana Flower Extract (Arnica), Carrageenan, Hydroxyethylcellulose, Centella Asiatica Extract (Gotu Kola), Equisetum Arvense Extract (Horsetail), Geranium Maculatum Extract (Wild Geranium), Taraxacum Officinale Extract (Organic Dandelion)


Vitamin C Creme: Water (Aqua), Glycerin, Rosa Canina (Rosehip) Seed Oil, Cetearyl Alcohol, Ascorbyl Palmitate, Phenoxyethanol, Tocopherol, Polysorbate 60, Organic Aloe Barbadensis (Aloe Vera) Leaf Juice, Ascorbic Acid, Organic Vaccinium Macrocarpon (Cranberry) Fruit Extract, Organic Rubus Idaeus (Raspberry) Fruit Extract, Organic Vaccinium Corymbosum (Blueberry) Fruit Extract, Organic Salix Alba (White Willow) Bark Extract, Organic Melia Azadirachta (Neem) Seed Oil, Organic Rosmarinus Officinalis (Rosemary) Leaf Extract, Organic Alcohol, Tetrasodium Glutamate Diacetate.
Which products are for acne prone skin?  The Fighter Gel,  and Pumpkin Enzyme Masque.

Which Products Are Best For Scars?
The Banisher 2.0, Pumpkin Enzyme Masque, Banish Serum, and Vitamin C Creme can help with scars and hyperpigmentation. 

For textured acne scars, dark spots, or preventative aging:  use the Banisher 2.0 paired with the Banish Serum.

Do not use the Banisher 2.0 on active breakouts, or rashes. Check with your doctor first if you are on prescription medication.

The Banisher 2.0 may be used together with the Banish Serum.   Vitamin C is essential for improving dark spots because it's one of the building blocks for creating collagen and it inhibits excess melanin production.
How To Use The Starter Kit!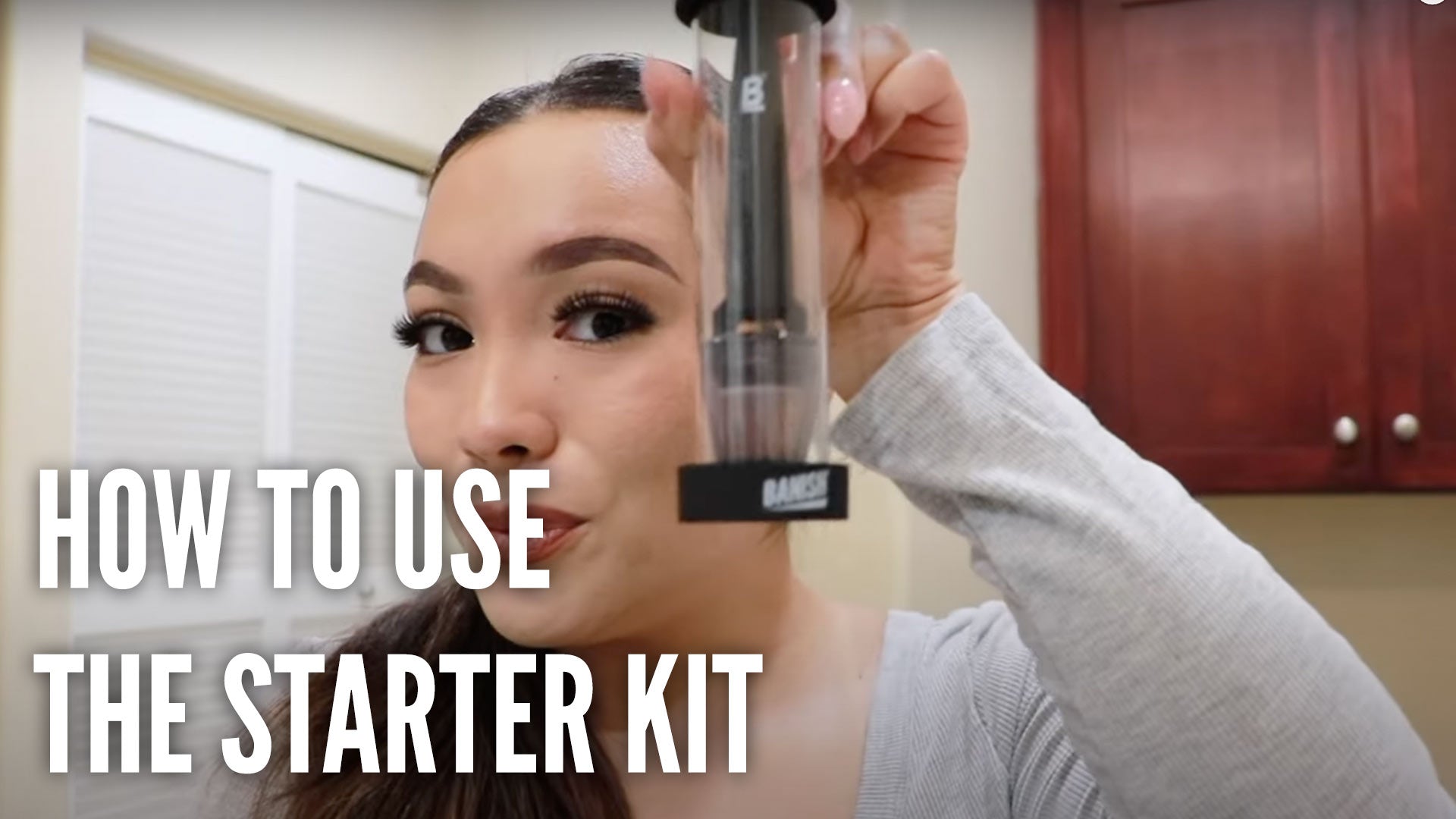 This product is rated 4.3 of 5.0 stars.
It has received 1093 reviews.
Skin Type:
Acne Prone or Sensitive
Nothing else has ever worked!
I decided to try Banish after seeing ratings and results, and I'm surprised with how fast i've seen a difference in my skin. I've dealt with acne since I was 14, and nothing has given me the results that this skin care line has. It's been about a month now, and I'll say this stuff is the TRUTH!
Nice kit. Seems to be working well so far!
nearly 10 years into using this kit!
I discovered the Banish kit in 2015 and still use it today. the stamper is great at evening out my skin tone and has significantly reduced my acne scars over the years (it took less than a year to clear!). I'm now 30 and I mainly use it now to increase collagen production and overall skin quality. love the other products in the kit especially the fighter gel, soo soothing on active acne and breakouts. can't live without this kit!
2 weeks in...no changes yet, but easy to use!
I've only used the kit for 2 weeks so far, so I'm not expecting any changes yet. Banisher is easy to use and the instructions are very detailed. Hoping for some great results!
Skin Type:
Acne Prone or Sensitive
Best products ever!!!!
This product has really helped my breakouts and scars. I 100% Recommend this to anyone!!!
Banish Starter Kit is what I needed
It has been 4 weeks since I used the Banish Starter Kit and I see improvement on my acne scars. It reduced blemish appearance and improves acne deep scars.