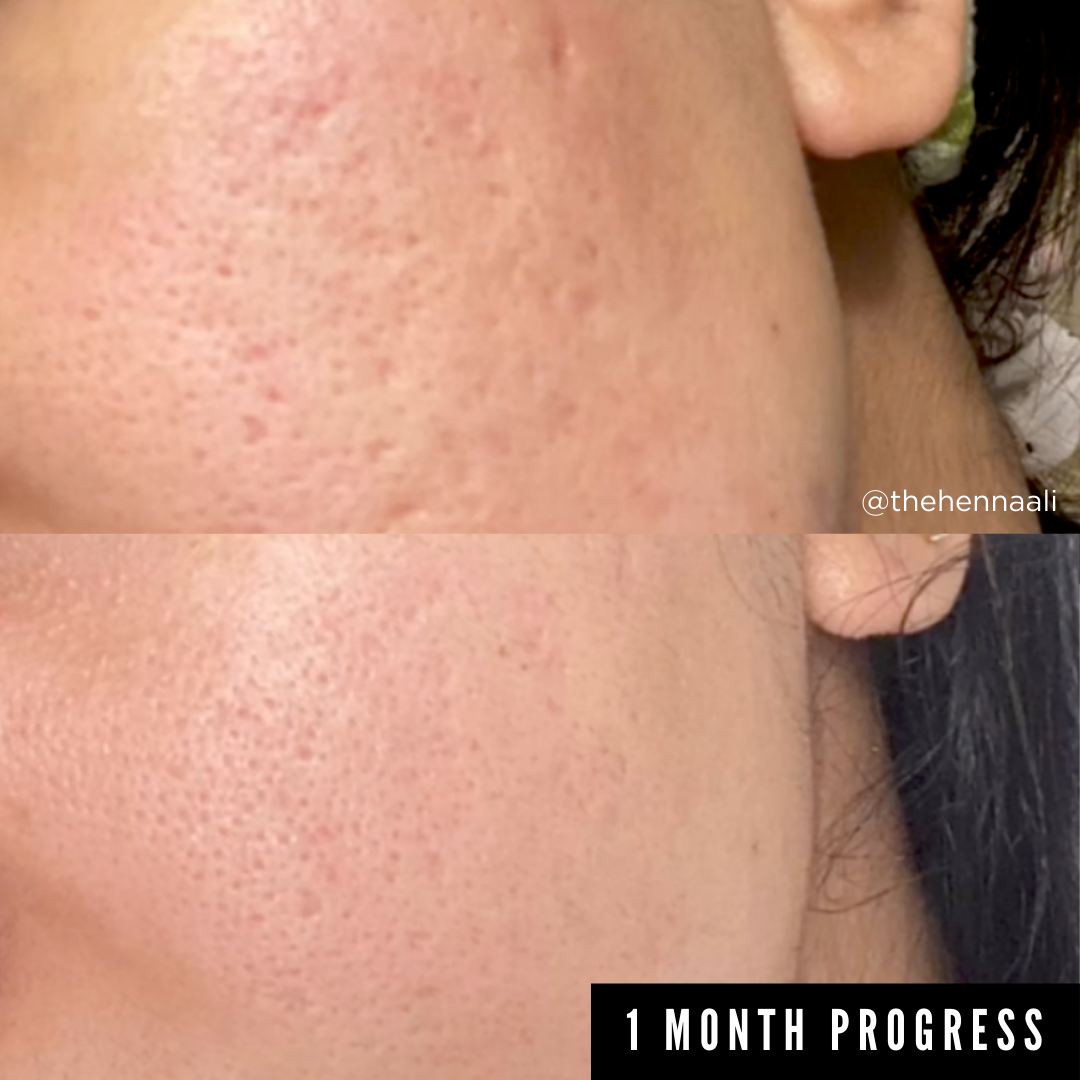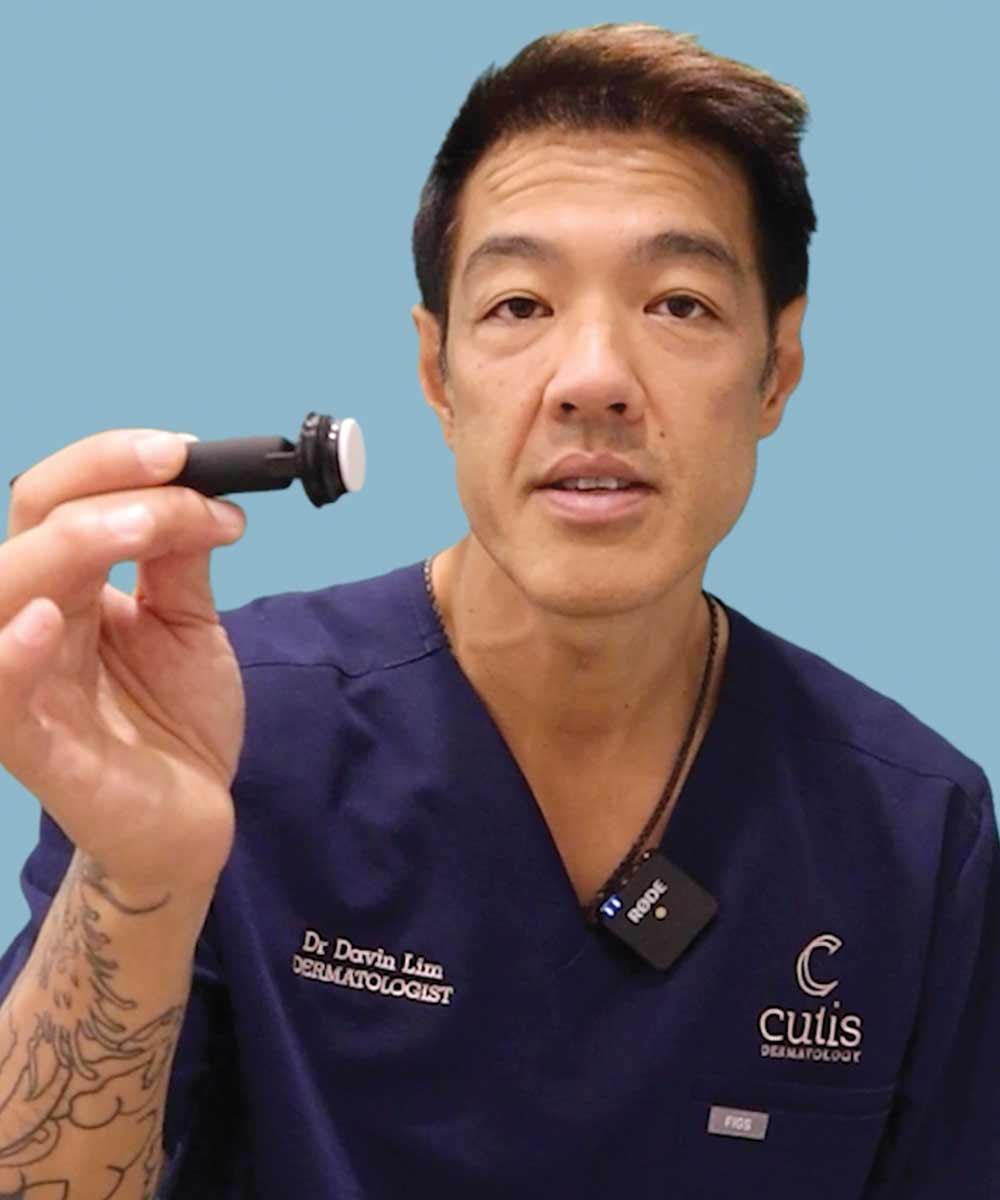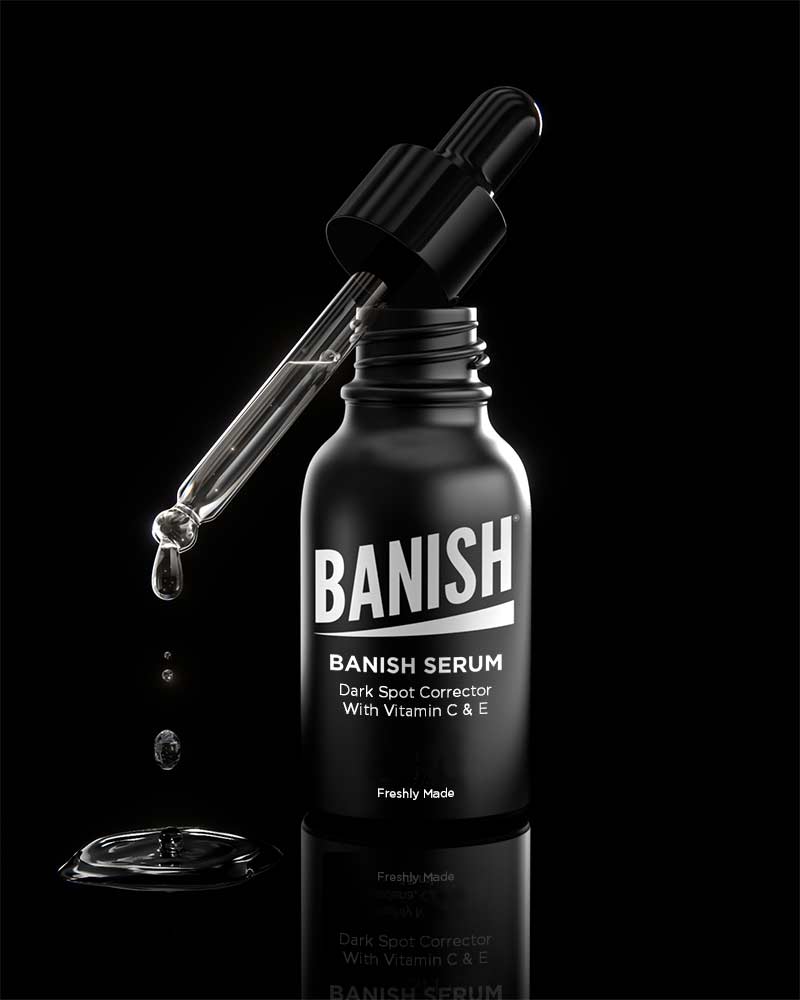 Banish Kit 2.0
Erase acne scars, dark marks, and fine lines.
---
The Banish Kit 2.0 stimulates collagen to eliminate old and new acne scars, dark spots, and fine lines!
Get similar results as professional treatments but at a much lower cost at $10 per session!
Save $19 with this kit compared to purchasing separately! 
An at home microstamping set that promotes collagen and skin renewal to fill in acne scars, reduce dark marks, and reduce fine lines!  
Best for: 
Fading leftover hyperpigmentation
Reducing textured acne scarring
Reducing fine lines
Increasing collagen
Great For Acne Scars! 
Includes:
Patented gold plated titanium bristle Banisher microstamping tool 
Banish Vitamin C Serum ( previously named Banish Oil )
Full simple instructions
Use 70-90% rubbing alcohol to sanitize your Banisher each time before use by filling the provided cap with it. 
The Banisher 2.0 may be used once every 2 weeks, or up to once a week.
Important: Personal use only. Never share your Banisher with anyone! Always store it with its protective twist cap, and we recommend replacing after the Banisher has been used for 8 sessions to keep the bristles sharp and sanitary.  All microneedle tools require replacement, not only ours! 
Banish Compared To Other Acne Scar Treatments
| | | |
| --- | --- | --- |
| Treatment | Cost Per Session | Recovery |
| Banish Kit | $10 | Overnight |
| In Office Microneedling | $400 | 2-5 Days |
| Chemical Peel | $500 | 4-7 Days  |
| Laser Treatments | $2000 | 1-2 weeks |
Why Banish Is Safest For At Home Microneedling

Compared to other at home derma roller microneedling tools, other tool's needles are thicker and derma rollers have needles that roll into and out of the skin at an angle which scoop out the skin causing extra irritation and damage compared to the Banisher that have ultra fine bristles that press straight down.
Why The Banish Kit 2.0 - Ultra Thin Bristles!
Thinner Gold Plated Titanium Bristles: The Banisher microneedling tool has gold plated titanium bristles that help promote collagen and gold has anti-microbial properties! Thinner bristles are safer since the micro channels will close up quicker.
Quality: We use the same manufacturer that makes the professional microneedle tools that the professionals use!  The reason why you can't find the Banisher 2.0 anywhere else is because we have a patent on it. 
Get The Right Aftercare: The Banish Serum is a vitamin c serum made fresh each day with L-ascorbic acid that arrives clear. This serum has a minimal ingredient list,  no artificial fragrance and few preservatives which are needed to keep microbes from growing. It contains the most effective and studied form of Vitamin C that's proven to brighten dark spots and increase collagen. 
Serums are always fresh and effective. Made fresh to order with natural ingredients so it arrives clear, a sign that the vitamin c is still effective.  We stabilize it with ferulic acid and vitamin E so it stays effective after we ship it out!  When vitamin c turns yellow or orange, it isn't effective anymore. 
It's so simple to use the Banish Kit at home!

1. Wash hands , clean face
2. Fill cap with alcohol to sanitize bristles for 5 mins, air dry for a minute.
3. Use alcohol wipe on skin you're stamping
4. Stamp banisher 3-5 times per area you want to treat, AVOID any acne or rashes.
5. Apply banish serum, nothing else!
6. Use SPF during daytime
7. See the morning after glow next day!

After using:

Clean Banisher again with the same alcohol, discard the alcohol and twist cap back on for storage.

Repeat Banisher use 1 or 2 times per week.

Apply Banish serum daily during the day or evening.

Do not apply makeup or exfoliating products until the next day or longer if skin is still sensitive. Not to be used over active acne, rashes or over other active skin conditions. If in doubt, ask your dermatologist!

Consult with your dermatologist before use if you are or recently using a prescription based acne medication.
Ingredients in Banish Serum: Vegetable Glycerin, Aqua, Hamamelis virginiana (witch hazel) extract, 100% L-Ascorbic acid, ferulic acid, natural rose extract, mixed tocopherols 95% (natural Vitamin E), Simmondsia chinensis (Jojoba) seed oil, Rosa damascena (Rose) absolute, sodium benzoate, benzoic acid Size: 15 ml

Dermatologist Recommended As Best Acne Scar Treatment!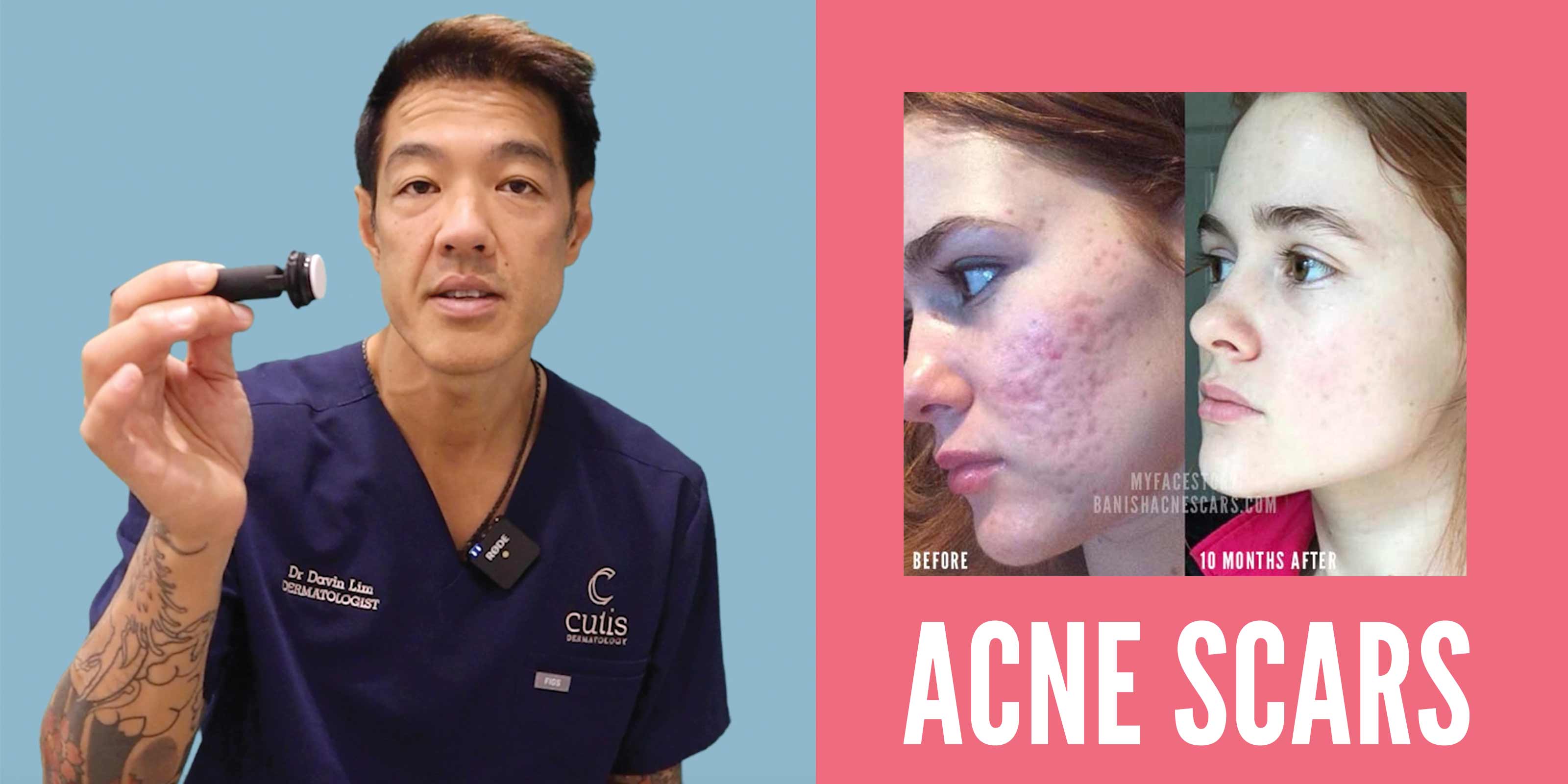 This product is rated 4.3 of 5.0 stars.
It has received 511 reviews.
Skin Type:
Acne Prone or Sensitive
Amazing
I've always struggled with really bad acne/cystic acne and was able to clear it up through medication. But I was of course left with really bad acne scars. This has been my biggest insecurity for the longest and was looking for everything and anything to clear it up. THIS product has made the biggest difference since I started using it. I used it once every other week and it's crazy the difference I see already!!! This is the holy grail for acne scars. Since using this product, I came back to order more from Banish because the price is worth the RESULTS! I will never stop using this, I love it so much!!!
Excellent
I purchased Banish micro needling stamp a month ago and have used it more than 4 times now. I have noticed significant change in my scars. It has become lighter than it used to be. I will continue using stamp for some time to get better result.
Skin Type:
Acne Prone or Sensitive
Love it.
Came nicely packaged, love the bag it comes i. Only used it twice but I love it so far. Easy to use...Way better than any other microneedling tool in the market and I've tried them all!
Skin Type:
Acne Prone or Sensitive
Works wonders
Noticed visible difference within 2 months of using the banish kit. I will keep buying it and see if the results will get even better
Skin Type:
Acne Prone or Sensitive
It take patience
I bought this Banisher 2.0 several years ago. I suffered from severe cystic acne from the ages of 16-24 and still occasionally get cystic bumps. Needles to say that type of acne left some very pitted, red, and aggressive scarring. I used this tool twice a week for a few months then gave up on it as I didn't see any progress. However, within the past year I have started back using it twice a week consistently. I soak the Banisher in rubbing alcohol for 5 minutes (or longer if I forget about it for while) then I let the Banisher air dry before using it on my face. It makes my face red afterwards which I believe is normal. Then I lightly tap some natural rose water on my face. It has made a big difference on the cystic acne scars I have. Using this Banisher takes patience to see results, at least for me it did. If there are times I forget to use this on my face I can tell a difference. I believe when using it consistently it really makes all the difference for healing scars. I didn't really notice a difference until comparing my photos after several (4-5) months of consistent use. My spouse noticed the improvement before I did (I'm self critical though lol) To anyone who is interested I recommend using gentle and natural face products but also just have patience. That was my experience.