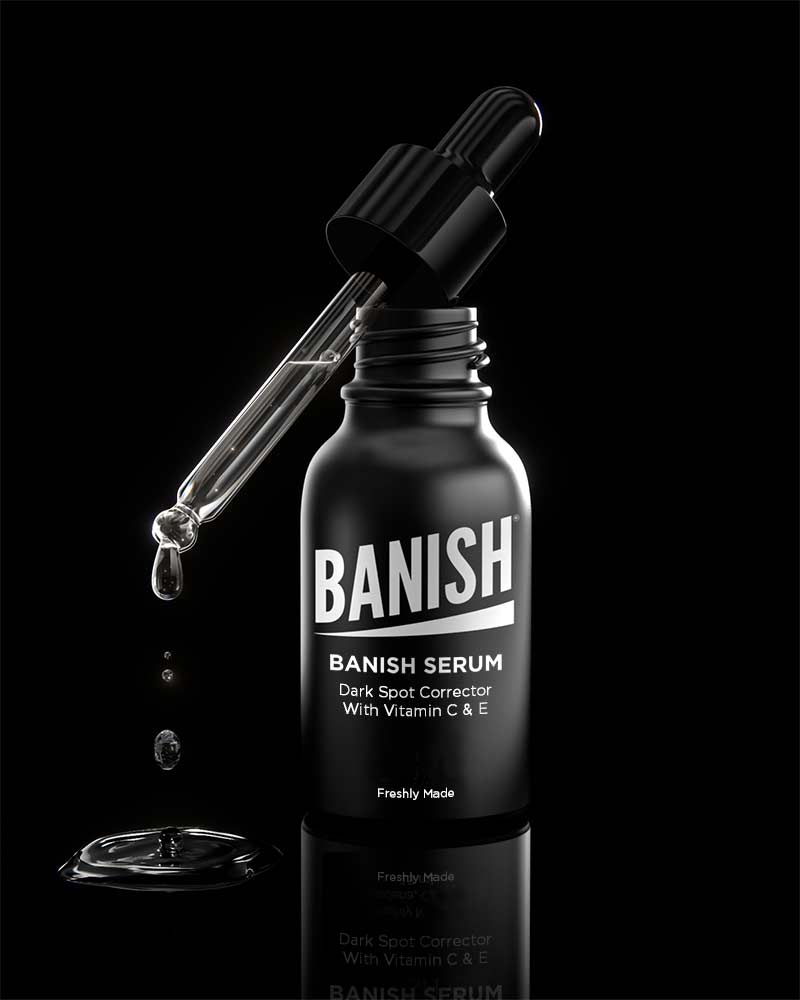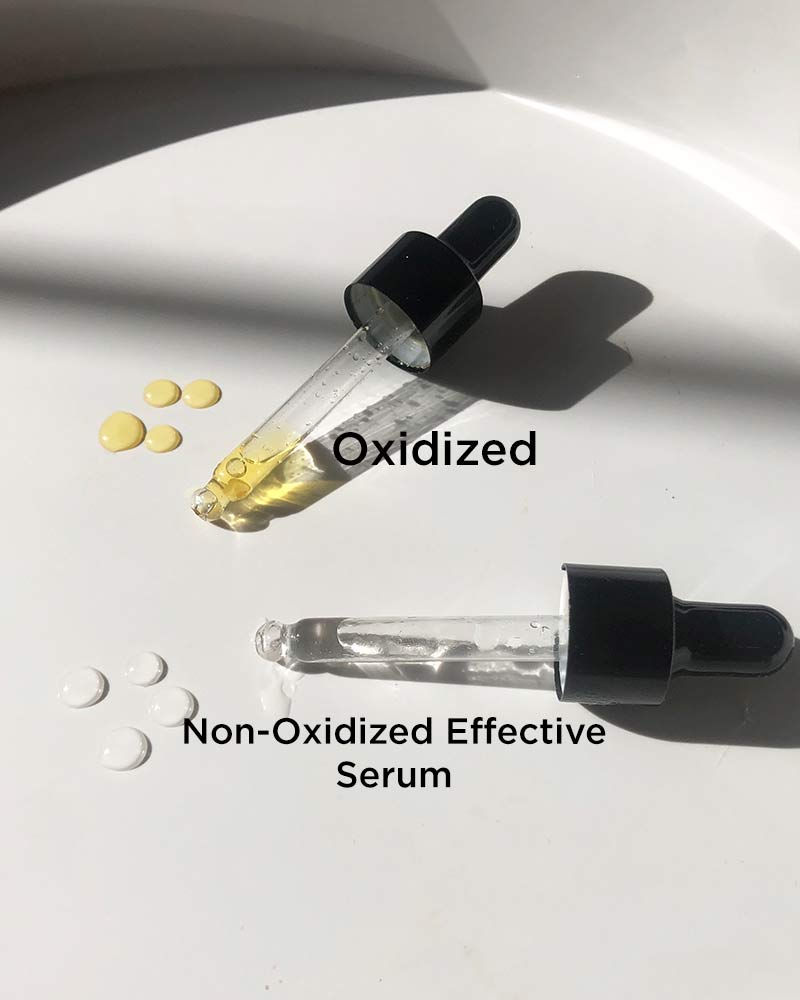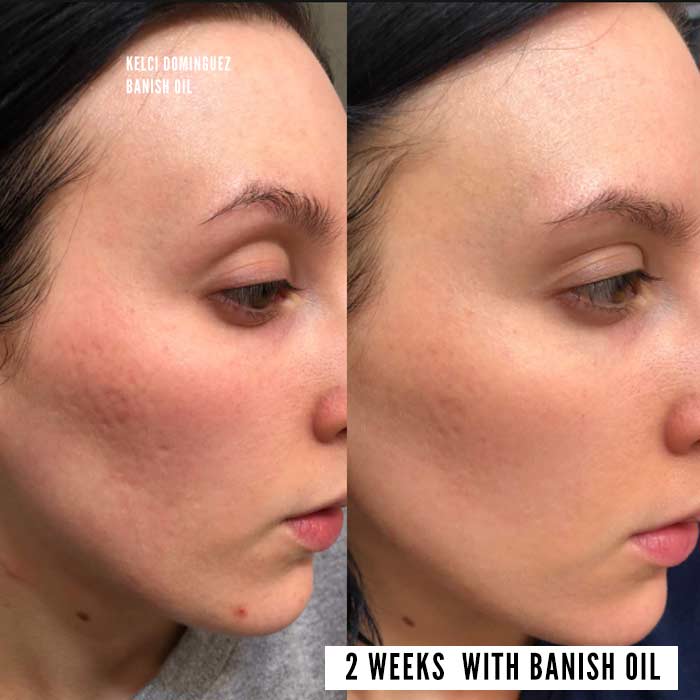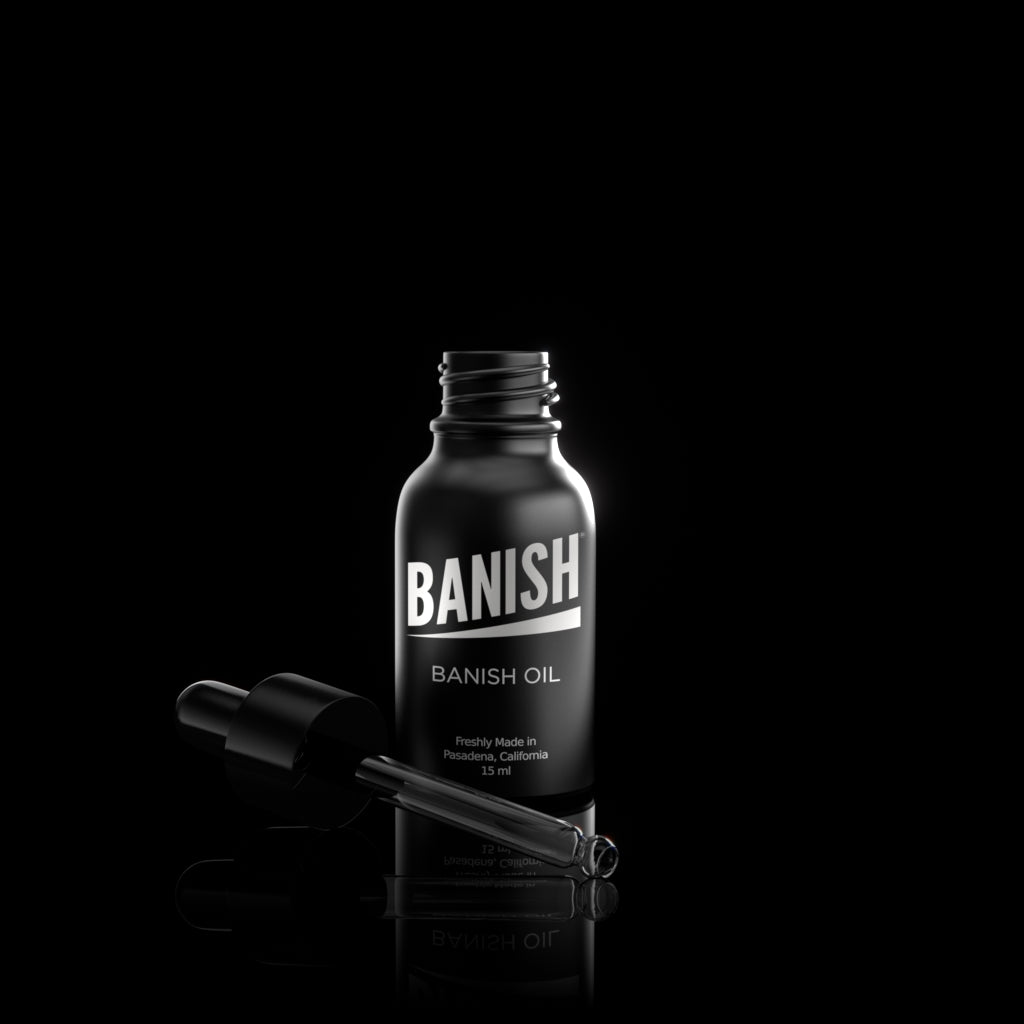 Banish Serum - Dark Spot Corrector Vitamin C Serum
Hydrating Vitamin C Serum Fades Dark Spots & Adds a Glow Back To Skin
---
A clear Vitamin C Serum with the most effective form of Vitamin C: L Ascorbic Acid.  Erase dark marks & get that morning after glow!
The Banish Serum (previously named Banish Oil) is a glycerin based vitamin c serum. Banish serum is made FRESH daily which makes it the only clear L-Ascorbic acid vitamin C serum.  Vitamin C serums that turn yellow or orange are oxidized and don't have as much benefits anymore!
Has a PH of 3-4 so the Vitamin C can penetrate into the skin without disrupting the skin barrier.  
Benefits of the Banish Serum
Apply at night, wake up with a morning after glow

Boosts collagen

Dark spot corrector

Adds a natural dewy glow to skin under makeup
Layer under sunscreen for increased photoprotection:
"Under laboratory conditions, it has been shown that application of topical Vit. C showed statistical reduction of UVB-induced erythema  sunburn cell formation"  

Contains most studied l-Ascorbic Acid antioxidant for skin
Freshly made in small batches shipped directly to you.
This vitamin c serum is stabilized with Ferulic acid!
"I am obsessed with Banish Serum! I use this product 2 or 3 times a week after cleansing, more when my skin needs a boost of hydration. I use several Banish products and this is one I cannot go without. 
I use the dropper and squeeze a few small drops onto my cheeks and forehead and gently massage it into my skin. I have tried other oils without success as my skin is so sensitive.I have never had that issue with the Banish Serum and it calms the irritation I often deal with after treating acne.
It gives my skin a great glow and layers well under the Vitamin C Creme" - Customer who purchased Banish Serum.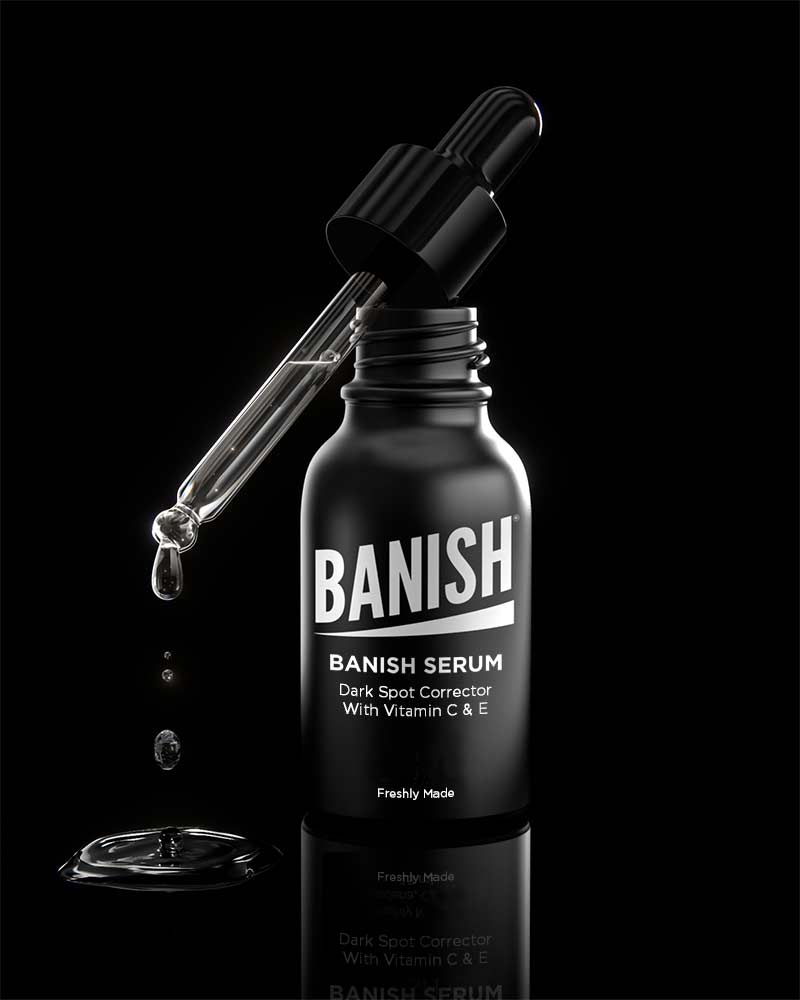 Directions: Apply 2-3 drops daily onto freshly cleansed skin. Can be applied after using the Banisher. Can be used day or night however we recommend it for the evening. Store tightly closed in a dark cool area. Shelf life: 6 months

FYI:
Watch out for other serums that could contain an ingredient called Propylene Glycol.

This Ingredient has been shown to cause allergic reactions to people with skin conditions like eczema, or cause increase of irritation and redness with repeated use.

Why take the risk of applying anything toxic on your skin when you want to repair it? That's why we formulated our Vitamin C Serum with a vegetable glycerin base to give you a safer alternative.

Glycerin moisturizes the skin and is often used for dry skin, rashes, burns, and cuts.

Propylene Glycol Is commonly found as a top ingredient in other leading brand's ingredient list.

Ingredients: Vegetable Glycerin, Aqua, Hamamelis virginiana (witch hazel) extract, 100% L-Ascorbic acid, ferulic acid, natural rose extract, mixed tocopherols 95% (natural Vitamin E), Simmondsia chinensis (Jojoba) seed oil, Rosa damascena (Rose) absolute, sodium benzoate, benzoic acid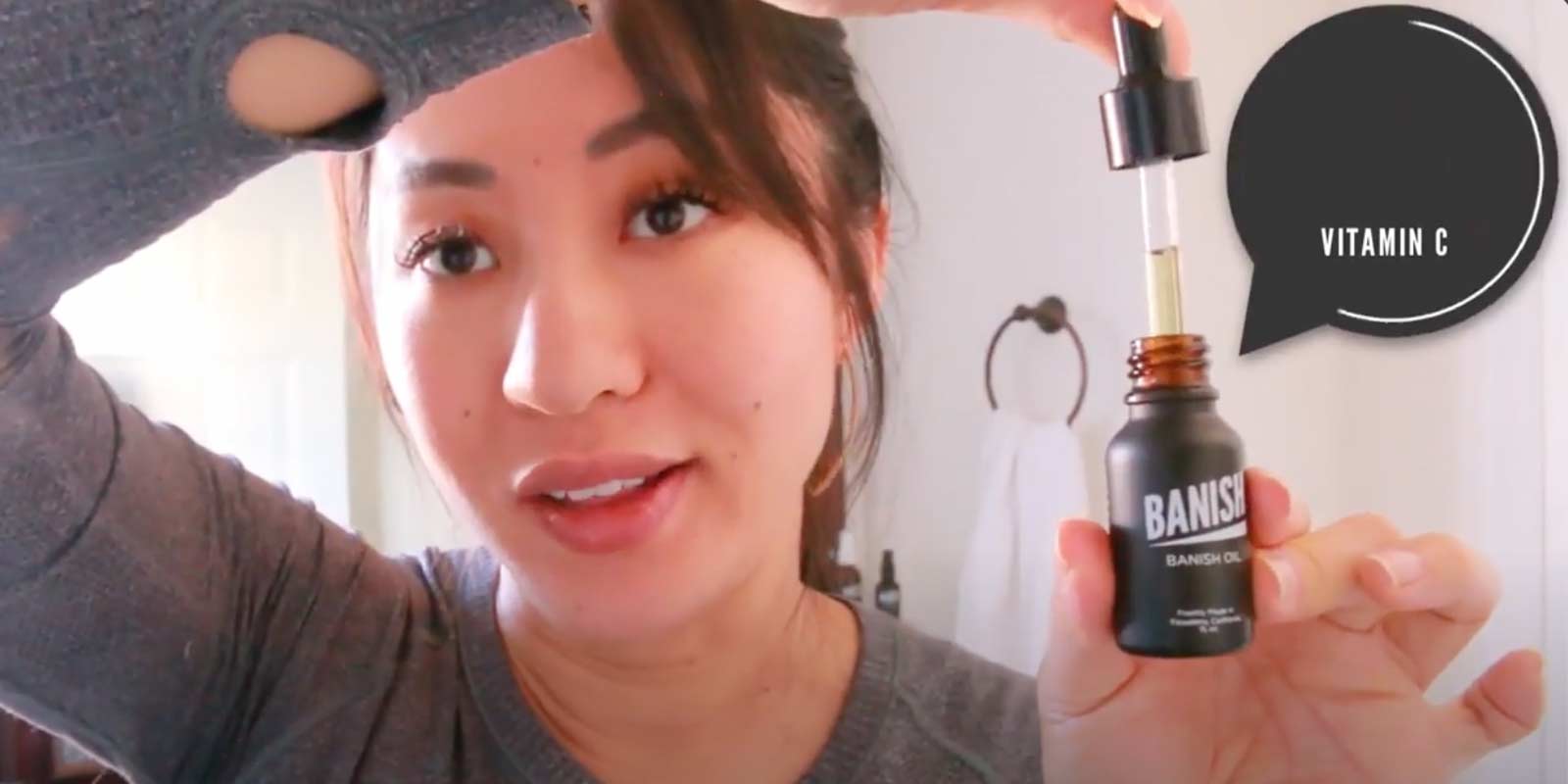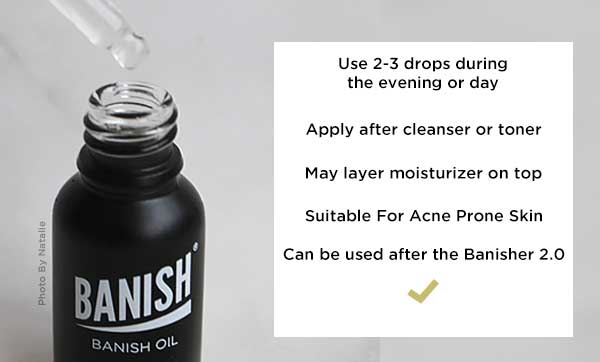 Ingredients Spotlight
L-Ascorbic Acid ( pure Vitamin C ):  The star ingredient that's proven to increase collagen in skin and reduce dark spots. Collagen is needed to keep skin firm, and smooth. Vitamin C prevents and fades dark spots.
Glycerin: Acts as a humectant to moisturize skin and protects the skin moisture barrier.
Shelf Life: 6 Months - store in a cool dark place like the fridge to extend and maximize shelf life.
Vegan & Cruelty-free
This product is rated 4.5 of 5.0 stars.
It has received 819 reviews.
skin is brighter and acne scars faded
I have been using this serum for a while. My skin healed so much. When I ran out of my last bottle I procrastinated and didn't repurchase for a few months…well I had another small breakout on the right side of my face. each time it would begin to subside a one or two new pimples would show up in the same area. A month goes by and this small breakout turned into a sea of scaring and irritation. So I repurchased the serum. GUYS it works pretty much immediately. My husband noticed a difference within one week. Each week it gets better. About a month of using it and my hyperpigmentation is almost completely gone & I'm confident in my skin again!
Skin Type:
Acne Prone or Sensitive
Dark Spot Corrector Vitamin C Serum from Banish!
Glowy skin!
This product is great! It worked on my dull skin and acne scars on my cheek area. I am seeing progress and continuously seeing improvement. It's slowly fading my acne scars and my skin seems to be come more brighter. I love the texture of this and it easily absorbs into my skin. I like using it in the morning with SPF!
It's creamy
I personally prefer my serum as a liquid viscosity. This is creamy but also nice. The pump was broken on delivery.
Skin Type:
Acne Prone or Sensitive
It's ok
I honestly expected better from the reviews but I think it made me break out. Have been using it consistently for 3 weeks and don't notice any fading of my dark spots.
love the dark glass bottle, love the effects!
this stuff works!! i love the easy application and that it's safe and protected in a black bottle! banish rocks!! ✨✨✨🔥✨