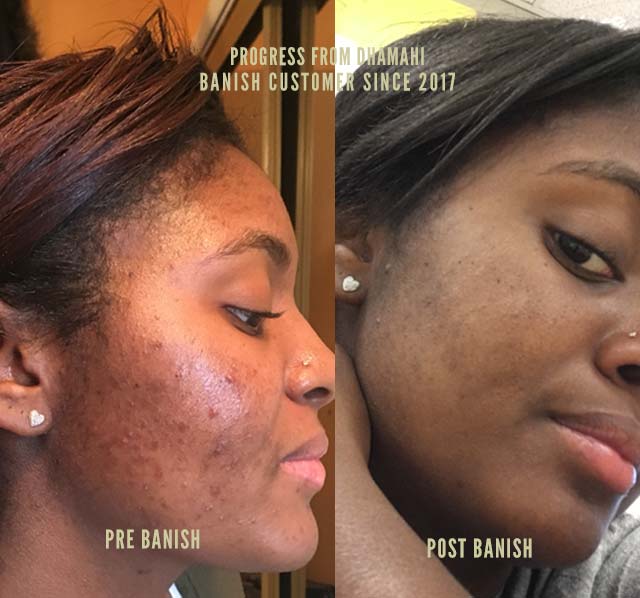 Vitamin C Creme
Lightweight Brightening Moisturizer for Dark Spots.
---
THE moisturizer for acne prone skin to brighten dark spots! 

New Improved Formula!
The Vitamin C Creme is a light water-based cream containing Vitamin C and antioxidant fruit extracts to reverse dark spots and skin damage for an overall brighter complexion. 
What The Vitamin C Creme Does:

Reduces appearance of dark marks
Firms Skin
Improves Evenness of Skin Tone
Glycerin helps repair skin barrier

Lightweight finish and feel - perfect for oily skin or acne prone skin!
Suitable For

Combination Skin
Dry Skin
Acne Prone Skin
Sensitive Skin
Size:50ml • Vegan • Cruelty-Free • Fragrance Free
Shelf Life: 6 Months - store in a cool dark place like the fridge to extend and maximize shelf life.
If you're looking for a non drying acne breakouts treatment, try the Fighter Gel!
Apply a small pea sized dab daily on clean skin and massage in. It can take a few seconds for the cream to fully absorb. You can apply your favorite oils or heavier moisturizer over if needed for your skin type.



Water (Aqua), Glycerin, Rosa Canina (Rosehip) Seed Oil, Cetearyl Alcohol, Ascorbyl Palmitate, Phenoxyethanol, Tocopherol, Polysorbate 60, Organic Aloe Barbadensis (Aloe Vera) Leaf Juice, Ascorbic Acid, Organic Vaccinium Macrocarpon (Cranberry) Fruit Extract, Organic Rubus Idaeus (Raspberry) Fruit Extract, Organic Vaccinium Corymbosum (Blueberry) Fruit Extract, Organic Salix Alba (White Willow) Bark Extract, Organic Melia Azadirachta (Neem) Seed Oil, Organic Rosmarinus Officinalis (Rosemary) Leaf Extract, Organic Alcohol, Tetrasodium Glutamate Diacetate.

This product is rated 4.3 of 5.0 stars.
It has received 206 reviews.
Just not working for me
I decided to try this product because of the great reviews it had & because I love their breakout calming gel….except I feel like this Vitamic c crème is just not for me. It's a little too heavy for me, & unfortunately I have not seen the results I expected to see and its been over a month since i started using it. I am a little disappointed because I wish I could have tried a sample before buying the whole bottle.
Love this! But please switch back to the jars
I love this moisturizer!! It's so great for my skin and has really helped my scars. I feel like the jars were more of a bang for your buck
we switched to the pumps so the product is more sanitary when coming out. but will take your feedback for the future!
Skin Type:
Acne Prone or Sensitive
Fave light moisturiser, great scent too
A sensory stimulating moisturiser that's super versatile and provides a natural glow after use, love use of vitamin C for marks and glow enhancement and the light but still moisture rich formula that's not too heavy and little goes a long way on this one too. Strong staple product
Skin Type:
Acne Prone or Sensitive
Consistency and formula change
I wrote a very long review back in April and see it somehow was not posted. I'll believe it was due to something else other than it being deleted. I'm disheartened but can relate to all the disappointed reviews regarding the changed formula and whatever new ingredients have now been put in with little to no communication. I've been loyal to this business for 5 years now, even when I moved countries, I stuck with it and the ridiculous shipping costs because I saw results I'd never seen prior. I have even just recently purchased this and 2 other things that arrived today, STILL. I hope (and it seems you are) paying attention to people who have and continue to support you when there is always elsewhere they can look. We put so much faith in your company as people who brand themselves as acne forward, positive, even specialists if you will. And believe and want to continue believing that that is still something you are leading with, even in the midst of temptation to move away from that in hopes that people will not notice. We do notice. Especially when prices seem to jump overnight (39 usd to 49 usd). We are still here, please do better or warn us next time when there's a change of a similar sort so we can feel some sense of autonomy. With all that said, I must say, I appreciate the change in packaging, though. Especially with this consistency if it is indeed to be separate from a thicker, "older version" you are working on, as you have kept promising. It's better for traveling and doesn't spill all over and get wasted (which it has). Looking forward to what you'll develop.
Thank you so much Andiswa for being a loyal customer! Unfortunately, there's a lot of things that go on behind the scenes that we, as a small business, can't control. With manufacturers favoring much larger brands and supply chain issues, all we can do is do the best that we can. Love that you love this new packaging! I personally love this formulation better because it absorbs easier into the skin and looks amazing under my makeup. Keep the feedback coming! Daisy
Skin Type:
Acne Prone or Sensitive
New packaging is wasting product!
Loooove this vitamin c creme, and to add to what others have said, it's my holy grail!! I did also notice the formula change, and have my own pros and cons to it. The NEW bottled packaging it definitely not my favorite because im just wasting product now. With the jars, I could use every last drop. Please switch back
The new formula is disappointed
The new formula is made me breakout and I feel is not beneficial my face anymore .please return the old formula of vitamin c cream i used to be a big fan of it